Shari2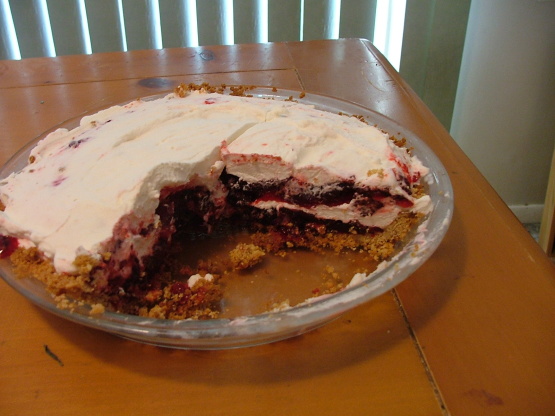 I found this recipe in a taste of home book, it was orinally made with raspberries, but I had blackberries on hand and so I switched things up a bit! It is a delicious summer treat, sweet but tangy!

Top Review by Shari2
The pie is a little tart but very refreshing. I didn't have blackberry gelatin so I used raspberry flavored with the blackberries. I was worried htat the 3 ounces of cream cheese and confectioners sugar would be enough but it was perfect. This is a pie that you could play around with different flavors of gelatin and berries. I will make this again during the up and coming summer months. Reviewed for PAC Spring 2008.
In a small bowl, combine the wafer crumbs and butter. Press onto the bottom and up the sides of an un-greased 9-10 inch pie plate. Bake at 350 for 10-15 minutes or until golden brown.
In another bowl, dissolve the gelatin in boiling water. Add the sugar, 1 cup of the blackberries and lemon juice. Refrigerate until partilly set. About 40 minutes to an hour.
In a mixing bowl, beat the cream cheese and confectioner's sugar until smooth. Add the vanilla and salt.
In another mixing bowl, beat whipping cream until stiff peaks form. Fold into the cream cheese mixture. Spread 3/4 cup over the bottom of the crust.
Spread 1/2 cup blackberry mixture over the top. Repeat layers. Refrigerate for 8 hours or overnight before serving. Garnish the pie with the leftover blackberries and whipped cream.