2Bleu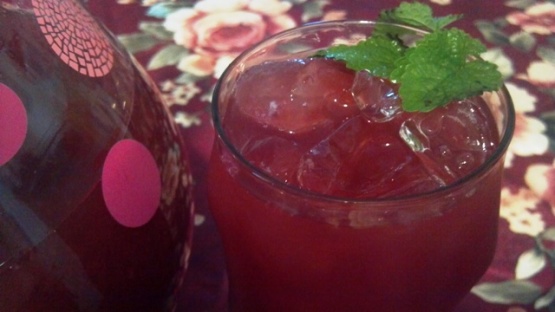 A spectacular garden summer treat that is very healthy and delicious. Blackberries are preferred, but you can use any typ berries. Using honey keeps it clean eating, but you can opt for sugar or Splenda if you prefer.
In a large pot, boil 4 cups of water. Remove from heat, tear the mint leaves in half and add to the pitcher along with the tea bags. Stir gently, cover and let steep about 10-15 minutes.
Meanwhile, Puree blackberries in a blender or food processor, strain into a 2 quart pitcher (discarding pulp and seeds). Strain the water into the pitcher, discarding tea bags and mint. Add in honey, tasting and adjusting to your desired sweetness. Top with cold water to fill, stirring to incorporate.
Chill for at least 4-6 hours in the refrigerator. Serve over ice and garnish with a mint leaf and some blackberries.