Rita1652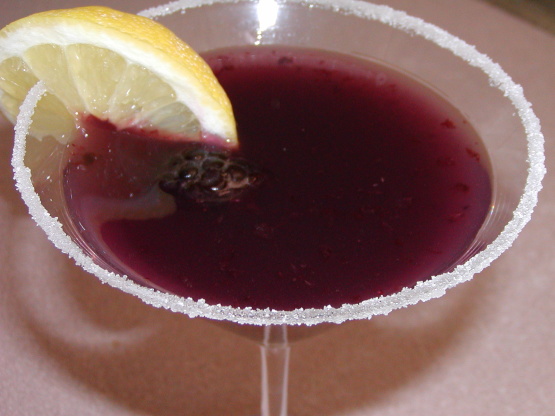 A little bit of effort, but amply rewarded. This was adapted by Jonathan Reynolds of the New York Times from "The Berry Bible." He prefers gin and so do I, but it's also awfully good with vodka. You'll have leftover simple syrup and berry puree, but I promise you, it won't go to waste. Cooking time is the estimate of how long it takes the syrup to cool.

This is a bit of work for a strong drink. I could see some wanting to strain the seeds for a not so crunchy drink.The crunch really doesn`t come till the end of the drink. I didn`t have creme de cassis so I used raspberry liqueur.I did use gin which I favor. The recipe did have a lot of leftover syeup and berries puree. Besides that you can always freeze the puree for a drink an other day! YES SIP SLOWLY!
In a small saucepan, combine 1 cup of sugar and 1 cup of water.
Bring to a boil and stir until sugar is dissolved.
Remove from heat and cool.
In a food processor or blender, combine 1 tablespoon sugar, the berries and the cassis (or brandy) and process till smooth.
Rub the rims of 4 martini glasses with lemon.
Spread the superfine sugar on a saucer.
Twirl the rims of the glasses in the sugar.
Place glasses in freezer.
Add gin (or vodka), Triple Sec, lemon juice, 2 tablespoons of the cooled simple syrup and 1/4 cup of the berry puree to a shaker filled with ice.
Shake vigorously.
Strain into chilled glasses and garnish with lemon and, if you like, a whole berry in each glass.
To quote Mr. Reynolds, "Serve immediately but sip slowly.".