Bev I Am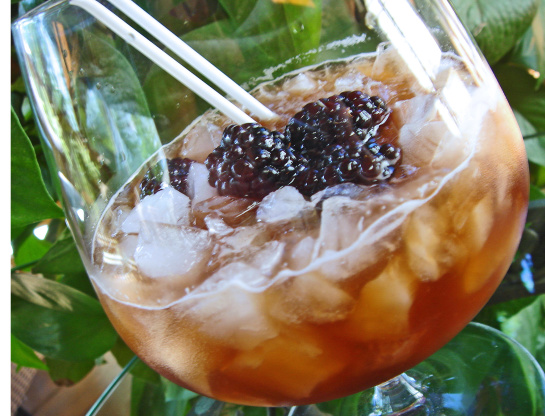 From Blackbird in New York (now closed). I substitute my Blackberry Liqueur (Blackberry Liqueur) for the Marie Brizard. Cooking time is actually time to marinate the berries.

This is really such a treat! I just happened to have fresh blackberries and simple syrup (made with a little mint) on hand to make this lovely julep : ) Very refreshing and light! Would be very nice served on a warm summer's evening ~ Thank you, Echo echo!
Marinate berries in brandy through sugar 3 hours.
Combine blackberry liqueur through water in a cocktail shaker and shake with ice.
Strain into a highball glass ¾ filled with crushed ice.
Garnish with 1 heaping Tbs marinated mixed berries and serve with a straw.
Use leftover berries to make more drinks or serve over ice cream, pudding, pound cake, etc.