Debbwl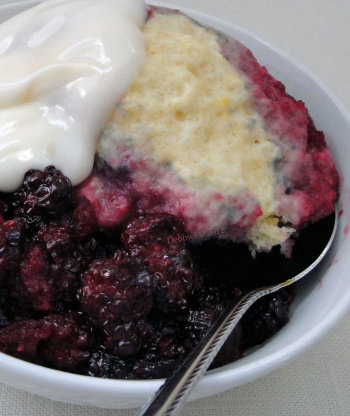 Served at Teddi's Tea Room in Spring TX..

Ohhhh..... so delicious! Kind of tweaked it a bit after reading the reviews. I was just making this for me and Dh so I was going to make a third of the recipe but then read that people wished there had been more sauce and it ended up getting kind f complicated, so I halved the biscuit mixture and made a full batch of sauce using half blackberries and half strawberries. As I started cooking the dumplings,I realized that I was making way too much for the two of use and ended up only cooking half of the half, so really just a 1/4 of the dumpling mix. Anyway they turned out so delicious! I used buttermilk and would again and next time I think I would reduce the sugar by about 1/4. Served this with a small scoop of vanilla ice cream and it was a great way to taste summer on a cold winter night. Thanks so much for sharing the recipe!
Sift the flour, 3 tablespoons sugar, baking powder, and salt into a medium bowl and mix well.
Add the egg, stirring until blended. Add just enough milk to make a stiff batter and mix well.
Combine the blackberries, 1 cup sugar, water, and butter in a medium saucepan. Bring to a boil, stirring occasionally.
Drop the batter 1 spoonful at a time (each spoonful should be 1/6 of the batter) into the boiling blackberry mixture. Cover and simmer 15-20 minutes.
Serve with ice cream or whipped cream.