This is the pie that captured my DH's heart! This is a great recipe that uses only 1 pie crust. I recommend using a deep dish pie crust to minimize spill overs. *Pls note that the first time flour listed in the ingredients, it should be 1/3 cup flour as listed in the directions. I've tried editing this several times and it won't change.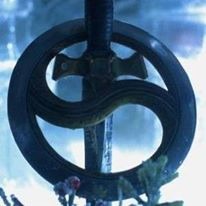 This was simply scrumptious! I used berries that I had picked and frozen last year. I didn't have a deep dish pie crust, so had to cut down the ingredients a bit. I wasn't sure how the pie would turn out having to do this, but it was perfect. Will definitely be making this again.
Preheat oven to 350 degrees.
Place berries into the pie shell.
Beat the 2 eggs together, then add the sour cream, 1 cup of sugar, 1/3 cup of flour. Pour over the berries.
Combine the butter, 1/2 cup of sugar, and the 1/2 cup of flour to make a crumble topping. Sprinkle crumble onto the top of the pie.
Bake for 50-55 minutes.