karen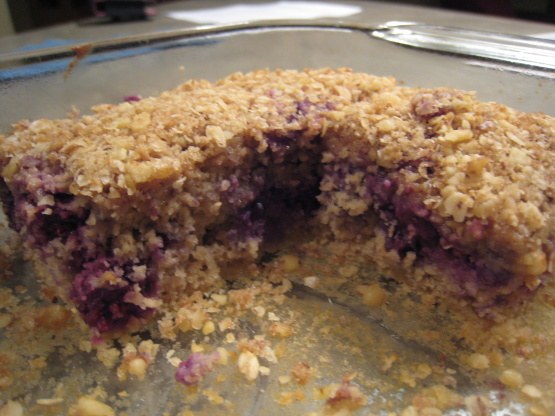 Finely ground oats give this cake a tender, moist texture. Great for brunch or even a after-school snack. Tip: stir frozen blackberries into the batter; the juices from thawed berries will turn the batter blue. From Cooking Light.

Top Review by karen
I also saw this recipe in Cooking Light, and have been planning to make it for ages. I finally made it for a family dinner, and it was a big hit. I followed the directions exactly, using 2 eggs and subbing chopped walnuts for the toasted pecans. You would never know it had oatmeal in it or was a low-fat dessert, and the end result is a strong nutty flavor with lots of crumbly topping. This one is a winner even for those not on a diet.
Preheat oven to 350*.
To prepare batter, process oats in a food processor until finely ground(about 1 min). Lightly spoon flour into a dry measuring cup; level with a knife. (too much flour will make this cake dry)
Add flour, sugar, baking powder and salt to food processor; blend well. Add butter; pulse 5 times or until combined. Spoon mixture into a large bowl.
Combine milk, eggs, and vanilla in a small bowl, stirring just until blended. Add to oat mixture, stirring to combine. Gently stir in blackberries.
Pour mixture into a 9-inch pie plate coated with cooking spray. (batter will be thin) Sprinkle topping evenly over batter. Bake for 45 mins or until lightly browned.
Cool completely on a wire rack. Slice and serve!
Topping:.
Combine all topping ingredients in a food processor; process until finely chopped.