A dear friend from church gave this to me after I had gone blackberry picking. We were living in the Seattle Wa. area at the time and they grew wild all along the roads.
Directions
Grease and lightly flour a 10 inches bunt pan.
Combine dry ingredients.
In a mixer beat butter for about 30 sec.
Add sugar and vanilla and beat until fluffy.
Add eggs 1 at a time, beating after each addition.
Add dry ingredients and buttermilk alternately to beaten mixture until combined.
Fold in blackberries.
Turn batter into prepared pan.
Bake at 350 for about 1 1/4 hours.
Sift powdered sugar on top when cake is cooled.
Reviews
Most Helpful
This was a very pleasant cake that was not too sweet. The batter was quite thick and, even though I baked it in a bundt pan as directed for 1-1/4 hours after which it tested done, there was actually a little undercooked batter near the bottom center. I think I would try this again in a 13x9-inch baking pan, so it could cook more evenly. I liked that it was not very sweet (even though there was 2 cups of sugar in it)! A great use for fresh blackberries. Made for ZWT 8 - Zingo.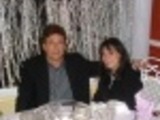 Thank you for sharing this recipe Elainiemay. It is wonderful, easy to follow instructions, quick to make, it was on the table in no time...It was a beautifully textured cake with all kinds of flavor, moist, tender, tall and light. The semi sweet cake was perfect with just a little dusting of icing sugar. I also only made half the cake, as there are only two of us. It was the perfect size. My dh was over the moon, he loved it. The berries were sweet and tart just perfect. Made for the Fearless Red Dragons - ZWT8 - Great Britian
This had a good texture and wasn't overly sweet- I will be having some for breakfast with my coffee! My only change was the addition of a little cinnamon, which I always tend to throw in desserts. Good use for some of my blackberry abundance, but the cake would be a good base for any berries or chocolate chips, I would assume.