Blackberry Basil Iced Tea

Mmmm, fresh blackberries and basil flavor the tea and taste so yummy! Feel free to mix this up and try strawberries, or even raspberries or blueberries!
Directions
Combine tea bags, blackberries, and basil in a tea pot. Mash the blackberries a little. Fill with boiling hot water and steep for 5 minutes. Pour and strain into ice-filled pitcher. Add lemonade and honey as desired. Fill individual glasses with ice and serve.
Most Helpful
Boy, my pitcher is a lot bigger than any tea pot in my house so I just made it all in a big cooking pot, let it cool and put it into the pitcher. The blackberries were a lot more expensive that I had expected so I plan on enjoying every drop of this lovely tea. As a base I used Tetley's Ceylon tea. It tastes wonderful and is also pretty in the glass. :D

I was intrigued by this combination and had to try it! Boy, am I glad I did. It was unusual, yet refreshing and tasty. The basil really added a unique dimension. I will be making this again! Made for Please Review My Recipe Tag Game.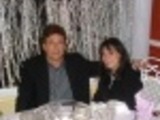 Light and refreshingly yummy! I used honeylemon decaf tea. Added Recipe #226197 for sweetener. I did use frozen blackberries so didn`t mash till serving. Made a beautiful color. Thanks Sharon