Black & White Vegetarian Chipotle Chili (Crock Pot)
Junebug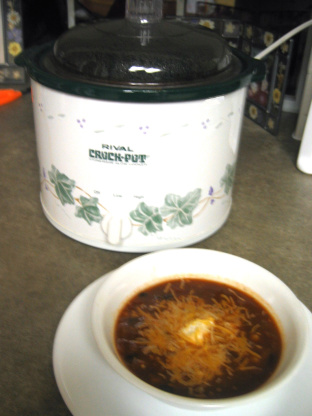 This is medium-spicy, but like any chili recipe, you can modify this for your own taste by adjusting the amount of chipotle and chili powder used, and the type of canned tomatoes with peppers you use. I used Del Monte's Diced Tomatoes with Zesty Jalapenos, which I think is kickier than the typical tomatoes & green chilis. I brown ground beef on the side for my husband to put into his portion. I usually use cooked dried beans instead of canned.

Always a treat to come home and have dinner ready...this is a great chili recipe to add to my arsenal, and takes less work than some of my other favorites!
Stir everything together in a 4 1/2 quart or larger slow cooker.
Set power to low and cook for 6 hours or longer (we usually let this cook for 10 hours).
Serve with cheese or sour cream if you wish.