skat5762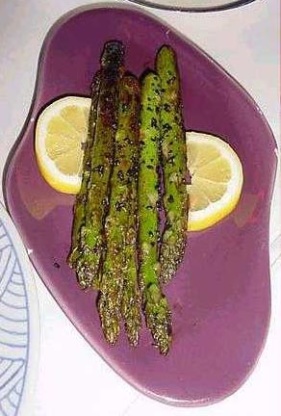 This is one of my favorite dishes at a local restaurant called Cracker's. This is THE best asparagus I have ever tasted!

Top Review by Bergy
This dish sure dressed up my meatloaf dinner, excellent. I couldn't find black sesame seeds so I used roasted white ones and instead of Kosher salt I used sea salt. It's a keeper, Thanks
Trim bottom 1/4 of asparagus off, or the whitish colored part,and discard.
Wash before cooking.
Sauté the asparagus in butter, with salt, pepper and black sesame, over medium heat.
Continue until the asparagus"gives" a little.
This all depends on the thickness of the asparagus.
Some water can be added if the asparagus starts to brown.
Squeeze juice from 1/2 lemon over asparagus, and serve.