Black Pepper Beef and Asparagus Stir Fry
Bergy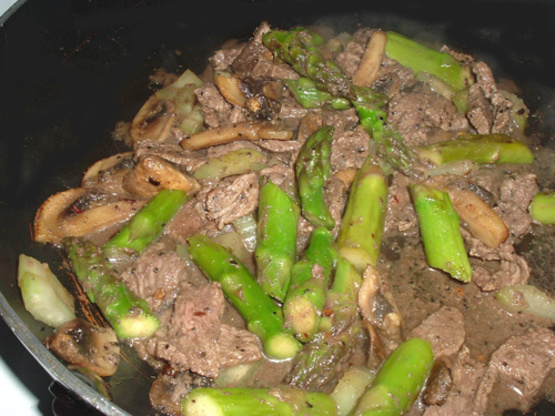 Low fat and tasty beef with vegetables on the table in less than an hour. An unusual ingredient in the quick marinade - diet Coke - helps to tenderize the peppery beef.

Top Review by Bergy
The pepper is wonderful - it leaves a lingering warm taste. I was surprised that 6 oz was more than enough for 2 people. The diet coke definitely does tenderize the beef. I used the soy sauce and it gave a little extra flavor boost. I used just a light spray of olive oil. The asparagus was still a bit crunchy just the way I like them. This recipe is a do again recipe Thanks SusieQusie for posting
Mix the Diet Coke, black pepper and onions. Add the beef strips and marinate for 30 minutes.
Heat a heavy skillet or wok over high heat. Add the olive oil and vegetables. Stir fry for 2 minutes.
Add beef and marinade and fry for 2 minutes. Add soy sauce if using.
Serve immediately over rice or noodles, your choice.