Black Pepper Basil Chicken With Cauliflower Couscous (Lower Carb
Julesong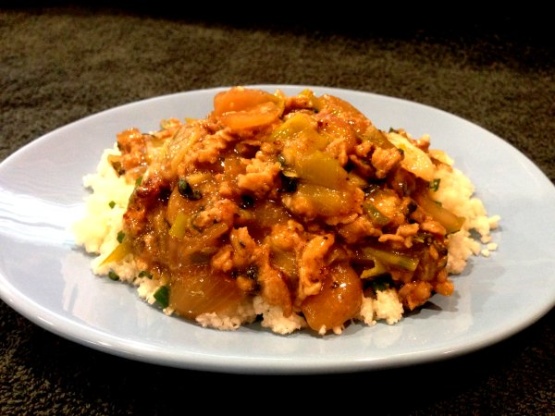 This simple recipe for delicious Black Pepper Chicken is a great substitute for the fat and carb laden versions you'll find at restaurant chains! It's easy to make, and satisfies that take-out craving. If you make it for dinner, it also makes for great leftovers for lunch the next day.
8

ounces ground chicken breast

6

tablespoons minced fresh sweet basil (to taste) or 3 tablespoons minced fresh holy basil (to taste)

1

tablespoon black pepper sauce (Lee Kum Kee brand)

6

ounces chopped leeks, white and light green portions

4

ounces chopped yellow onions

12

ounces chopped cabbage

2

ounces sliced red radishes

1

ounce chopped scallion (green onions)

1

teaspoon minced fresh garlic

1

cup hot water

1

teaspoon chicken bouillon powder (I use granulated)

1

teaspoon Braggs liquid aminos (to taste, tamari or soy sauce can be substituted)

2

tablespoons coconut oil, divided, for sauteing

1

teaspoon black pepper sauce (Lee Kum Kee brand, additional, to taste)
1 1⁄2 teaspoons arrowroot, powdered

2

tablespoons cold water

16

ounces fresh cauliflower florets, thick stem parts removed, for serving
Place ground chicken in a container that can be closed with a lid, add the 1 Tbsp of Black Pepper Sauce and the minced basil, and mix well. Set aside. (I like to let this sit for at least 30 minutes before cooking.).
Chop the leek, yellow onion, and cabbage into 1/2-inch pieces. Slice the red radish fairly thinly, but it doesn't have to be paper thin. Chop and mince the scallions (green onions) and garlic.
Make the cauliflower "couscous": put the cauliflower florets into a food processor and whir until they're all broken up and look like couscous! It won't take long, perhaps a minute. Set aside.
Add 1 Tbsp of the coconut oil to a large, hot, heavy pan on the stove (I use a large Le Creuset). As soon as it has melted, add in the vegetables (except for the cauliflower!) and combine well. Saute the vegetables, stirring *occasionally* (you want them to brown a bit and not simply steam in their juices), until they've softened some and most of them have a bit of browning on them, about 7-8 minutes.
Combine the hot water and granulated (or powder) chicken bouillon and stir to dissolve. Pour into the vegetable mixture, add the Bragg's aminos (or tamari/soy), lower temperature to low, cover, and allow to simmer until softish or your desired texture. I prefer my veggies fully cooked, and simmering them together with the bouillon adds a lot of flavor.
Meanwhile, in a separate hot, heavy pan (again, I use a Le Creuset), add the remaining 1 Tbsp coconut oil. When it is melted and hot - it won't take long - add the chicken mixture to flatten and spread it along the bottom to brown. When it has browned on one side, use a flat spatula to flip it over and brown on the other side. Don't stir it too much at first, as you want it to brown.
Meanwhile, uncover the other pan containing vegetables. In a small dish, mix together the arrowroot powder with the cold water and stir together until well combined. Pour the arrowroot mixture into the vegetables and stir well - the vegetable liquid will begin to thicken. Continue stirring until everything is well-combined.
When the chicken has fully browned, begin breaking up the meat into a "gravel" of the size you prefer.
Add the browned chicken mixture to the vegetables, and stir to combine. Taste, and add an additional teaspoon of Black Pepper Sauce (or more, to taste) and/or Braggs/tamari/soy sauce to taste.
Serve the Black Pepper Basil Chicken and veggies over 4 ounces of cauliflower "couscous" per serving, and enjoy!
Note: I like the couscous just as they are, raw, but if you like you can microwave them briefly to soften them up. But raw they have almost the exact texture of cooked pasta-couscous, and they're delicious just as they are. Experiment, and decide for yourself.