Black 'n White Bean Salad

If you're a bean lover like me, this will keep you smiling. From TOH, this recipe has less sugar, salt and fat. So, you'll be happy AND healthy!
Directions
In a large bowl, combine the first six ingredients.
In a small bowl, whisk vinegar, oil and seasonings.Pour over bean mixture and toss to coat.
Cover and refrigerate until serving.
Using a slotted spoon, serve over lettuce leaves, if desired.
Most Helpful
This was a really nice, pleasant-tasting bean salad that is very mild in flavor. I made this exactly as posted, and ended up with a healthy salad for lunch. Made for Fall PAC 2012.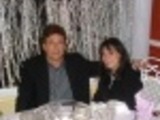 This is a really pretty salad. My family loved it, even our picky eater. I have made it again and am taking it to a pot luck tonight. I added corn to mine, but other than that I left everything the same. Very pretty and very tasty!