lets.eat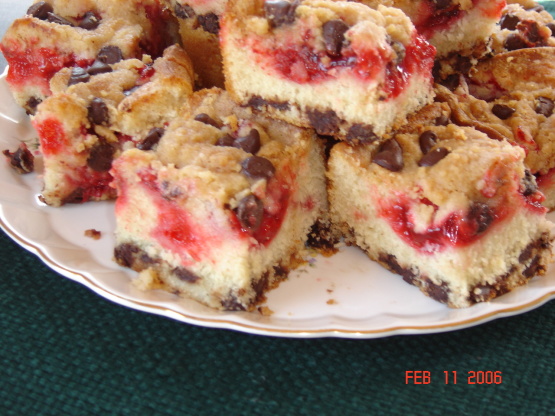 This is soooo good. Yes 2 Tbsp. vanilla extract is correct.

I didn't rate this because I made some significant changes to the recipe. This is a nice idea, but each layer is so sugary it is overkill to me. I found that the flavors just didn't blend like they do in a black forest cake. However, I brought this to a german class and got positive feedback. So for those who could stand to OD on sugar, chocolate chips, and cherries, go for it, otherwise, skip dessert.
In a large mixing bowl beat the eggs; add the sugar, oil, milk and vanilla.
Mix in the flour and baking powder (mixture will be thin), when blended add the chocolate chips.
Pour into a greased 13x9x2 baking pan.
Drop cherry pie filling by the teaspoonfuls in even rows into the batter.
With a pastry blender combine the bisquick, sugar and butter to form loose crumbs, add the chocolate chips.
Sprinkle the topping evenly over the top of the cake.
Bake 375' for 55 minutes to 1 hour or until cake is golden brown and when tested done with toothpick.