Marija P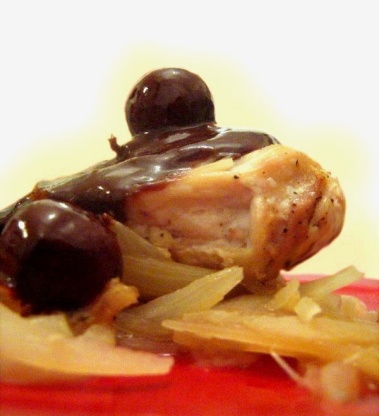 This is from IGA. This looks so good; hopefully I'll be able to try it soon. Since I keep I know there is a lactose free cooking cream that is considered pareve, which is good to keep in mind. There will be leftover sauce in the end, and you can use it for ice cream.

This was utterly delicious! I used Lindt 90 percent chocolate and a little bit honey, and for the cream some rich Greek sheep yoghurt (which is not sour at all but a very good substitution for cream). A really special dish! Served with rice and red cabbage. Thanks for sharing, I'll make this again.
Made for All Aboard The Love Train 2012.
1⁄2 teaspoon ground black pepper

1

tablespoon olive oil

1

vidalia onion, thinly sliced (or a yellow onion)
salt and pepper
1⁄2 cup drained tin black cherries, juice reserved
1⁄4 cup reserved cherry juice

5

(10 g) lindt 70% cocoa dark chocolate squares (50g)

1

teaspoon vanilla
1⁄4 cup 15% cream (15% m.f. cooking cream)
Preheat oven to 180 degree C (350 degree F).
Season chicken breasts on both sides with pepper.
Heat oil over medium high heat in an ovenproof pan. Sear chicken breasts for about 1 minute on each side, or until they are golden. Remove from pan and reserve.
Add onion to the pan and saute, stirring frequently, for 3 minutes or until lightly golden. Add 2 tablespoons of water, scraping brown bits from the bottom of the pan.
Place chicken breasts on the bed of onions and cover; cook in the oven for about 20 minutes, or until meat is no longer pink inside and internal temperature reaches 82 C (180 F). Season with salt to taste.
In the meantime, bring cherry juice to boil in a small saucepan. Add chocolate; reduce heat to low and stir until chocolate is melted.
Add cherries and vanilla and allow to simmer for 5 minutes. Stir in cream and allow to simmer for about 2 minutes, or until sauce thickens. Keep warm.
Serve chicken breasts on onions with the Black Forest sauce.