Lranzen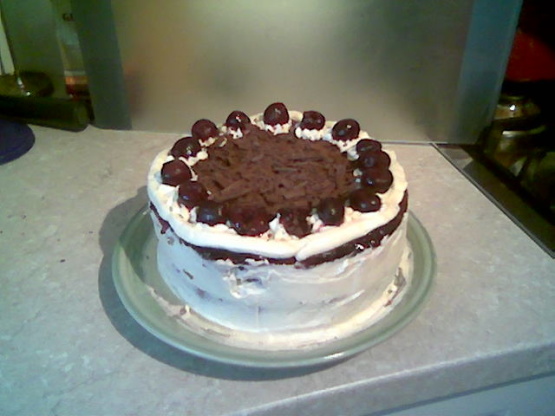 I enjoy making cakes and letting everyone in the neighborhood taste how good I make them. I got this recipe from one of grandma's secret cards.

So good I had to come back and review it. I made this over the weekend for 8 people, and it turned out stunning (and giant--8 of us got about 2/3 of the way through). It gets better every day it sits, so I'm enjoying eating the leftovers. The espresso in the buttercream is wonderful, and the whipped cream frosting is tasty, but not loaded with sugar, making this a very well-balanced cake. I had to use sweet cherries instead of sour, and brandy instead of kirsch, and I can only imagine how much better it would be with the right ingredients(great for an adult palate, not a sugar bomb!). Here's some tips on what I did. *Plan ahead. The more you space this out, the better. Follow the directions--soak the cherries for at least a day before you make the cake itself (especially if you are making a sub. for the kirsch). Assemble the cake (everything bu tthe whipped cream frosting) at least a day (preferably 2) before to let it soak--it makes a huge difference. *BIGGEST TIP: Someone else had their cake split, and I think I know what happened. Because this is a three layer cake, the layers need to be VERY even, or the center will be higher than the sides, putting stress on the middle of the cake and causing it to split (especially since this soaks in liquid). Make sure you level your cake before layering. Then, make sure you arrange your cherries in an even layer (on the cut side) across the entirety of the cake (all the way to the side)--don't just spread them around willy-nilly to be roughly equal. Someone suggested using a thick line of buttercream at the edges to keep the cherries from squeezing out, but the cherries aren't cooked, and if you arrange them with the cudge edge down, they'll be very sturdy and supportive of the cake. The cherries, not the buttercream, are the support! I had some issue with my second layer, where the sides were starting to droop and crack, and I ended up filling the gap between the two cake layers with extra cherries and the excess cake from the domed tops of each layer, which worked okay. The third layer, i put the cherries in concentric circles all the way out to the edge, and had no issue. *I used Betty Crocker Devils Food cake mix (2). I was making homemade buttercream AND whipped cream frosting, I had no interest in making sponge cake too. It turned out well (but I'd recommend baking a bit longer than recomennded on the box to get it dry enough to absorb all the kirsch). I had fresh sweet cherries available, but next time I would love to try the sour to better balance the cake. *Kirsch was $35, and unless I'm making this weekly (thinking about it, that good), I have no other use for it, so I used plain brandy and pureed some of the extra cherries. Next time, I would take the brandy, add about 5 pureed cherries, and add some pits to soak for a few days to make a more biting substitute. *Like others, I thought the buttercream filling was too sweet. Next time, less sugar, but it was already too thin as in to pipe well. I would chill it next time, then pipe, though. *The whipped cream frosting made the perfect amount with 2 cups of cream--it covered my entire cake, plus about 1 cup extra. Didn't use the dry milk, made no difference.
Drain cherries, reserving 1/2 cup juice.
Combine reserved cherry juice,cherries,granulated sugar and cornstarch in a saucepan.
Cook and stir over low heat until thickened.
Add vanille and stir.
Split each cake layer in half horizontally.
Crumble one half layer; set asideBeat cold whipping cream and confectioner's sugar in a large bowl with an electric mixer on high speed until stiff peaks form.
Reserve 1 and 1/2 cups whipped cream for decorative piping Place one cake layer on serving plate.
Spread with 1 cup whipped cream; top with 3/4 cup cherry topping.
Top with second layer, 1 cup whipped cream and 3/4 cup cherry topping; top with third cake layer.
Frost cake sides with remaining whipped cream; pat gently with reserved cake crumbs.
Spoon reserved 1 and 1/2 cups whipped cream into pastry bag fitted with star tip; pipe around top and bottom edges of cake.
Spoon remaining cherry topping over top of cake.