Wildflour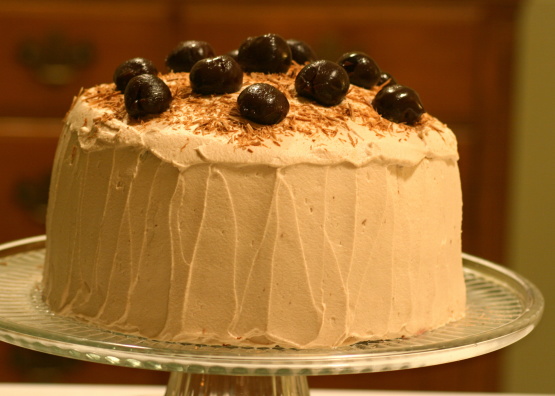 From what I hear this is a pretty authentic German recipe. You can replace the alcohol with cherry juice if it's not your thing.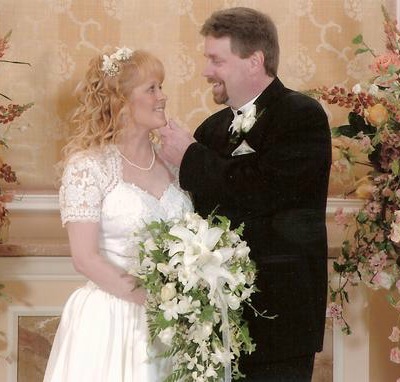 This was hard to rate, because the stars only go up to 5!!!! ;) :) THIS deserves at least 10!!!!!! :) I only made a few very minor changes. I had to use all-purpose flour and it worked out just fine, I added in addition to the two eggs 1 extra egg yolk. Then for the whipped frosting I used 1 cup powdered sugar, 1 cup heavy cream, 1/2 Tbl. cocoa powder, and the vanilla and kirsch. And it made plenty to frost the sides and top. :) Then I just saved out a few cherries to decorate the top with. :) The cakes were done baking at exactly 35 minutes. :) And the dental floss worked PERFECTLY!!! This cake was truely OUTSTANDING!!! My hubby said it tasted exactly like the one he had in Germany!! Thank you so much for sharing!!! My neighbors thank you, too! ;) :) Made for Chef-I-Am's Cake-a-thon! :)
Preheat oven to 350 degrees. Line the bottoms of two 8-inch round pans with parchment paper circles. Sift together flour, cocoa, baking soda and 1 teaspoons salt. Set aside.
Cream shortening and sugar until light and fluffy. Beat in eggs and vanilla. Beat into flour mixture, alternating with 1 cup buttermilk, until combined. Pour into prepared pans.
Bake at 350 degrees for 35 to 40 minutes, or until a toothpick inserted into the cake comes out clean. Cool completely. Remove paper from the cakes. Using a thin but sturdy string (dental floss works well), wrap the string around one of the cakes at the halfway mark, horizontally. Tie the string once and pull slowly, cutting through the cake forming two layers. Repeat on other cake. Sprinkle cut side of each layer with kirsch.
In a medium bowl, cream the butter until light and fluffy. Add confectioners sugar, pinch of salt, and coffee, beat adding buttermilk as needed for consistency. Place first layer of cake on plate(cut side down works best for frosting). Spread with 1/3 of the filling. Top with 1/3 of the cherries. Repeat with remaining layers.
In a seperate bowl, whip the cream to stiff peaks. Beat in 1/2 tsp vanilla and 1 TBS kirsch. Frost top and sides of cake. Decorate with chocolate shavings made with a vegetable peeler on chocolate.