Black Eyed Peas With Herbs
Susie D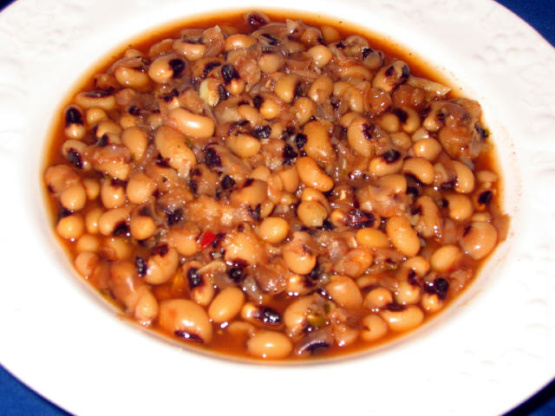 This Moroccan dish is adapted from Madhur Jaffrey's World Vegetarian. I serve this stew-like dish over rice for a delicious hearty vegetarian meal.

I love this recipe!! I followed the directions exactly with the exception of using crushed red pepper flakes and sautéing 2 onions with the garlic! The flavors are wonderful and are a nice change from the meat-simmered Southern version I am used to having! This is a wonderful vegan meal that I am definitely going to be making again!
Wash and drain black-eyed peas.
Soak peas overnight in water that covers by 5 inches.
Drain peas and discard soaking liquid.
In a large pot, add the peas and 4 1/2 cups water; bring to a boil.
Cover, turn the heat down to low, and simmer for 40 minutes or until the peas are tender; set aside without draining.
Add the oil to a large skillet and put over medium-high heat.
When the oil is hot, add in the chile and stir once; it should darken and puff up immediately.
Quickly add in the garlic and stir once.
Add the black-eyed peas and all the cooking liquid, the bay leaves, oregano, thyme, paprika, and salt.
Stir mixture and bring to a simmer.
Simmer gently, uncovered, for 20 minutes.
Serve hot.