Black-Eyed Peas With Ham Hocks

Fall and winter are coming and this is a dish that will warm you up on a cold day. If you simmer it long enough, it will take on a stew-like consistency. I serve it with a little chopped tomato and onion on top with skillet cornbread on the side. You can also use pintos, limas, ore northern beans in place of the black-eyes. I hope you like it!
Directions
Rinse peas well and pick out dirt and stones (I do not soak mine).
Add to a large stock pot.
Fill with water up to a little over half full (you may need to add more water (hot) as you go).
Add ham hocks, salt and pepper (be careful not to add too much salt because of the ham hocks).
Bring to a rapid boil for about 20 minutes. stirring so the peas don't stick.
Put on low and simmer 2 1/2 to 3 hours, stirring every so often.
When done, you can serve it by itself or over rice.
Reviews
Most Helpful
Great! I needed to cook the beans 4 hours though. Thanks.
This was a great recipe to make for New Year's! I also had to cook the beans for a least 4 hours. I add pieces of ham also. Great for reheating.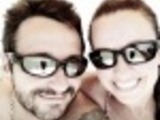 Very good. I used some fresh blacked peas I had in my freezer and they were delicious. A good alternative to my usual way of cooking peas.