Black-Eyed Pea Stew With Rice
dicentra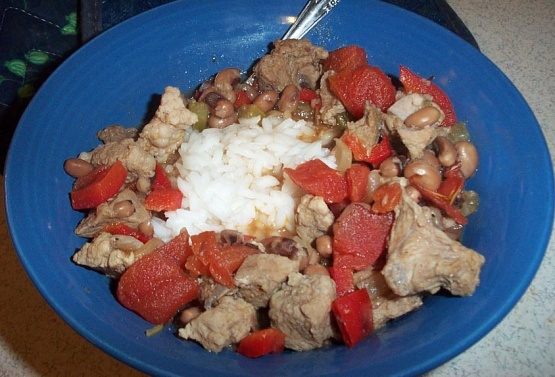 This is a variation of Hopping John. It's usually a New Years Day item around our house, as the Black-eyed peas, are for good luck.And it also contains rice, which is for abundance, and pork, which is for the future.
Saute pork in 1 tablespoon hot oil in a Dutch oven over medium-high heat 8-10 minutes. Remove pork and set aside.
Add remaining 1 tablespoon oil to Dutch oven. Sauté onion and next 4 ingredients in hot oil 5 minutes. Stir in oregano and thyme, cook, stirring often, 2 minutes.
Add peas, broth and bay leaf, bring to a boil, cover, reduce heat, simmer stirring occasionally 45 minutes.
Stir in tomatoes, simmer, stirring occasionally, 20 minutes. Stir in reserved pork, salt and next 3 ingredients. Remove and discard bay leaf. Serve over rice.