PanNan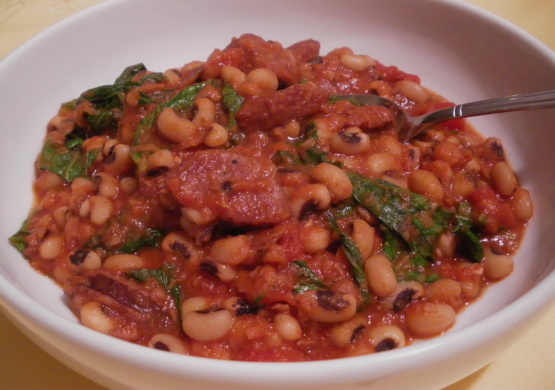 Another Hoppin John Recipe. I don't know who John is, but I like his dish! From Cooking Light.

I make this on regular rotation. The leftovers are terrific, too. My husband isn't crazy about too much green, so I am starting to use about 6 oz of the greens instead. The mustard greens give it the right mustard-y flavor, too. In a pinch, I throw everything in the crock pot. After about 5 hours on high, I put it all in a regular pot and then add the tomatoes, vinegar, and mustard greens, cooking like it says in the recipe.
Sort and wash peas; set aside.
Heat oil in a large saucepan over medium heat.
Add onion to pan; cook 3 minutes or until tender. Add sausage; cook 4 minutes or until lightly browned.
Stir in broth; bring to a simmer, scraping pan to loosen browned bits. Stir in peas, salt, peppers, and bay leaves.
Cover and simmer 45 minutes or until peas begin to soften. Uncover and cook 15 minutes or until liquid begins to thicken.
Stir in vinegar, tomatoes, and mustard greens; simmer 10 minutes or until peas are tender, stirring occasionally. Discard bay leaves.