Black Eyed Pea Soup With Ham and Greens
dicentra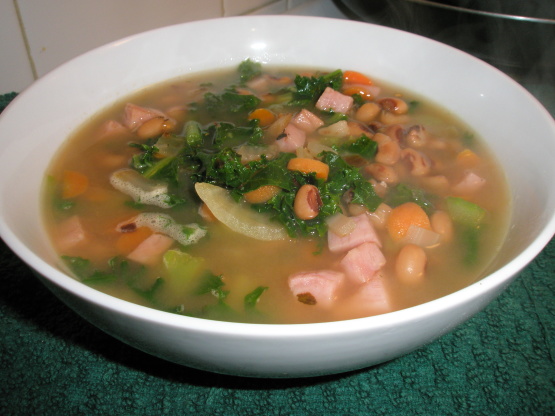 Posting this for ZWT 2006 (French Cajun & Creole region). This is a very homey comforting sort of a soup. The spices are easily played with if you like it spicier and it is even better with a good dollop of hot sauce in it.

We've all been sick with yucky colds, so instead of our normal big New Years Day feast, I made this. It has all the elements I try to incoporate into NYE dinner. :) I used escarole in place of the collars b/c that is what was in the fridge. I had reduced the amounts to just serve myself with some leftovers, but DH decided he wanted some. He liked it! That is high praise indeed! :) Perfect combination of flavors. I agree, don't skip the vinegar. Thanks. I bet this would freeze well, but mine isn't going to make it that far this time. ;)
Heat oil in large saucepan over medium heat; add onions, ham, carrot and garlic.
Cook, stirring occasionally, until onion is soft; add collards, broth, water, bay leaf and red pepper flakes to saucepan and simmer until greens are tender, about 25 minutes.
Rinse and drain black eyed peas; semi mash one can of peas in a bowl; add those peas and other can into soup and simmer 5 minutes; season to taste with salt and pepper; stir in vinegar.
Don't omit the vinegar by the way. It truly adds something to it and gives it a much more southern taste for lack of a better way of putting it.