teresas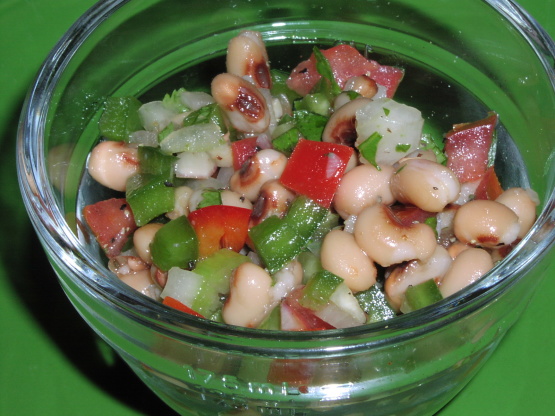 I first had this salsa at a house warming party served with tortilla chips. It was the first thing to go, everyone loved it. I found it's an excellent side to grilled pork tenderloin. I've served it cold and hot; I think it's good both ways but my husband did not like it as much hot. It's a very healthy dish and a great way to get your veggies in for the day. It's one of the recipes that I actually like black eyed peas in.

This was such a good dish! Not only is it low in fat and sugar but has fiber. DH and I had it cold. We still have some left over, and planning to try it hot. I didn't have any green chilies on hand so I doubled the jalapeno's. Glad I did, gave it a nice bite. It's easy to prepare and also looks great plated. This is a keeper. Thanks DeAnna Owens for posting.
Chop all the vegatables.
Add the rest of ingredients to a bowl, deep enough to mix the ingredients together.
If served cold, refrigerate for at least an hour before serving.
If served warm, heat up in the microwave or on the stove-top.