3 Reviews
This was loved even by those who don't like black eyed peas. I couldn't find the peas with jalapeno, so I added a 7oz can of chopped green chilies. I also accidently forgot the rice, but it was still good (no leftovers). I made it earlier in the day & refrigerated til later, just cooked a little longer to heat thoroughly and I did add the shredded cheese. Thanks for a great recipe.
This was a great dish!!! Everyone that has tried it likes it. Its something different and i like the kick that it has to it.
Great recipe! My husband REALLY liked this. I have an teensie-eensie embarrassing confession to make though. I was so busy looking for black eyed peas WITH jalepenos (which I couldn't find by the way), that I accidentally bought purple hull peas instead. Didn't realize it till I was making the casserole an hour ago. But- it still turned out fantastic. I ended up adding about a Tbsp of diced jalepenos to make up. Thanks for a great recipe. :-) Made for Spring 2010 PAC.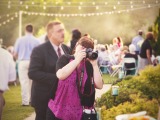 Black Eyed Pea Casserole