Black Coffee Barbecue Sauce
PaulaG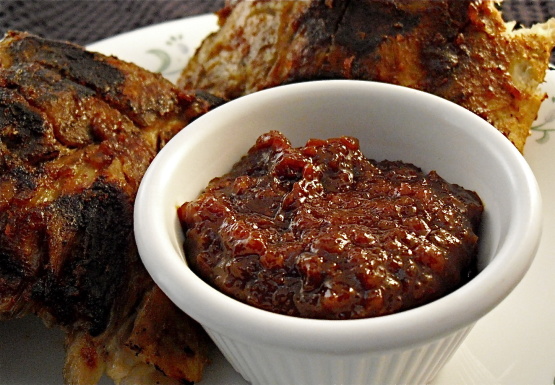 It's great to know folks like this sauce so much! I wish I could take credit for it but it was adopted after the original member left. Thank you, all, just the same. I have made the recipe with regular brewed coffee but highly recommend the espresso. In a pinch use strong instant if you have nothing else. The acid of the coffee balances the sweetness of the other ingredients.

This was an excellent sauce! I did cut it in half and still have some left for next time. It was really tangy and BH really liked it. He was the one who braved the cold and went outside to cook it on the grill after I had marinaded two ribs for about an hour. I gave him some extra sauce to baste with and all turned out well. The time it took to prepare and the long list of ingredients used was well worth it. I may even try this during the winter as a slow roast or even a crockpot recipe for ribs as I still have quite a few of them in the freezer.
Combine all ingredients in a saucepan and simmer over low heat for 20 minutes.
Cool, then puree in a blender or food processor until smooth.
This can be stored in the refrigerator for up to 2 weeks in a covered container.