Black Cherry Tomato Pasta Sauce
Cook4_6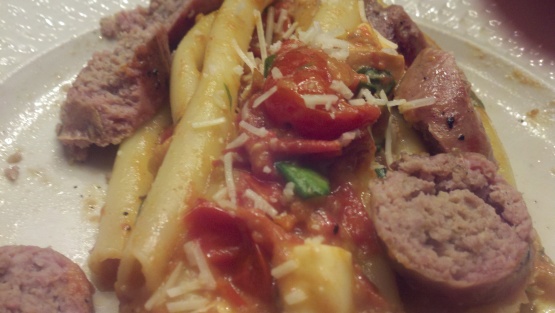 Recipe for my Black Cherry toms. Adapted from here http://thefoodaddicts.com/pasta-with-black-cherry-tomato-sauce/ Gorgeous step by step photos to be seen at the main page. Times & Qty are currently estimates until I make this.

Absolutely delicious, but absolutely not enough sauce! Double or maybe triple this when serving 4-6 people. I used a combination of red, brown, and yellow grape and cherry tomatoes and served it over ginormous pasta noodles, grilled zucchini and with grilled Italian turkey sausage. I tossed in 1/2 cup of fresh basil and smoked, fresh mozzarella. Divine! Will be making this again!
Heat the oil over medium heat in a medium saucepan.
Add the tomatoes and heat until they burst.
Stir in all ingredients up to the cheese and let simmer, covered for 20-30 minutes.
Add the parmesan cheese and remove from heat. Let the cheese melt before serving.
Serving suggestion is to serve with chicken on angel hair pasta, with basil leaves.