Redsie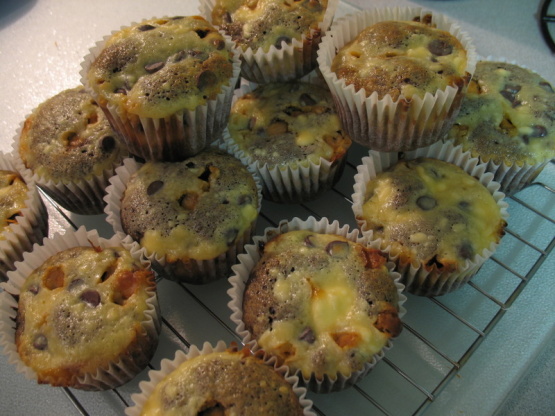 A lighter version of these scrumptious cupcakes. (From "Lighten Up" by Elaine Magee)

My Mom used to make these for us as kids but since my metabolism doesn't function as well as it did when I was 13 I was thrilled to see a low fat version :) Even without the added fat and calories, they turned out just as I remember..moist chocolate cupcakes with a creamy "cheesecake" center!! I didn't have the full amount of chocolate chips but it didn't effect the taste for us at all and saved a few calories to boot! Thanks for posting!
Preheat oven to 350*F.
Line 18 muffin cups with foil or paper baking cups.
To make the cream cheese filling, in a small bowl, beat cream cheese, vanilla, sugar, and egg until well blended.
Stir in chocolate chips and set aside.
In a large bowl, combine flour, sugar, cocoa, baking soda, and salt; mix well.
Add the water, oil, sour cream, vinegar, and vanilla; beat for 2 minutes.
Fill muffin cups 1/2 full with batter.
Top each with Tablespoon of cream cheese mixture.
Bake 20 minutes, or until cream cheese mixture is light golden brown.
Cool for 15 minutes; remove from pans.
Cool completely; store in refrigerator.