Prep 30 mins
Cook 15 mins
I've made these at Christmas to serve to guests or to give away on a goodie tray.
Directions
Sift dry ingredients together in large mixing bowl.
Form well in center of dry ingredients and add water, oil, vinegar, and vanilla.
Beat with mixer until smooth.
Stir in chocolate chips.
In separate bowl, cream together cream cheese and powdered sugar.
Fill greased or paper-lined muffin cups 2/3 full with batter.
Drop 1/2 tsp of cream cheese mixture on top.
If desired, sprinkle with slivered almonds.
Bake at 375 for 12-15 minutes.
Most Helpful
I would have liked a little more flavour in the cupcakes, but they turned out pretty good and were very moist. I loved the cream cheese layer; I can't believe I've never made Black Bottom cupcakes before; such a great idea!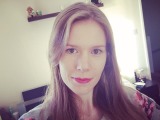 I tried this recipe and would not make this one again. There are so many other better chocolate cake cupcake recipes than this one. I followed the recipe for the chocolate cupcakes and tasted it before I filled my muffin tins - it was off and did not taste very good. I added more cocoa powder, water and butter. That helped the taste. I put the cream cheese and powdered sugar on the top as the recipe called. The cupcakes went well after baking. This was easy to make but would most definitely would not make it again.
Someone brought these to a party I was at last weekend and they were fantastic!!! I couldn't wait to find the recipe and I knew I would find it here! Will make them VERY soon.