CarrolJ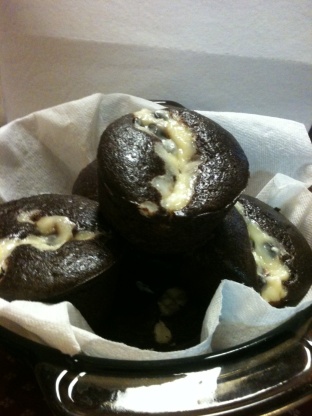 This recipe is always a hit with everyone, but especially with kids and chocolate lovers. I've had this since back in the 1970's, and it was one of the first recipes I saved as a teenager. Nice and chocolate-y, and who can resist the sweet cream cheese?
I made large cupcakes because that is the size of the pan I have to use in my Convection oven. I got 10 large cupcakes out of the recipe. Because my batches were larger I baked them for 25 minutes. These were big hit with the chocolate lovers here. These are sooo rich they don't need frosting. I had too much of the topping mixture and had to throw it away since I knew it couldn't be eaten as is since it had a raw egg in it. Made for Fall PAC 2012.
Preheat the oven to 350 degrees.
Place cupcake cups into miniature cupcake pans.
Make the topping: Using an electric mixer, beat the cream cheese, egg, sugar and salt until creamy and smooth. Stir in the chocolate chips.
Make the cupcake batter: Sift together the dry ingredients: flour, sugar, cocoa, baking soda and salt. Add the liquid ingredients: water, cooking oil, vinegar and vanilla, and beat for one minute on low speed, then for another minute on medium speed. (The batter may be a little thin.).
Fill small cupcake cups about halfway (or a little more) with the chocolate batter. Drop a scant teaspoon of the cream cheese mixture on top.
Bake for approximately 20 minutes. Makes 4 dozen.
(tip: use a piping back, or a zip lock bag with the corner cut out, to fill the cupcake cups with the batter, especially if you are doubling this recipe for a crowd.).