Black Beans, Sausage and Rice
Daydasa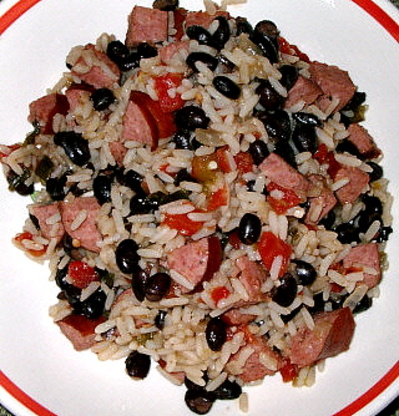 My whole family enjoys this easy dish. I make it often with cornbread on the side.

This was very quick and easy, not to mention cheap!. I used a box of Spanish rice. Thanks for the great recipe. We will be making this again!
In a large family skillet with lid, heat oil on medium heat.
Add onion, green onion and garlic; sauté until soft.
Add sausage and Creole seasoning.
Once sausage is slightly brown, add Rotel and black beans.
Stir until just combined.
Pour chicken broth into measuring cup and add water to measure 2 cups.
Add 1-cup rice and broth, water mixture to skillet.
Stir until combined.
Bring to a boil, cover and reduce heat to a simmer.
Cook until rice is cooked through and mixture is thickened slightly.