dicentra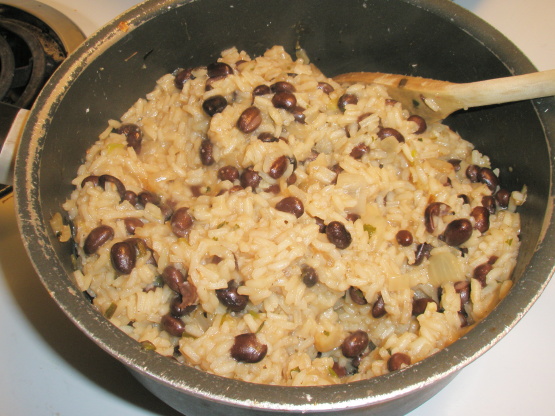 Great basic recipe! I used bacon grease to saute the veggies and toast the rice. I didn't have veggie broth, I used 1 pkt of Sazon con azafran and 1 pkt Goya chicken bouillon in the water. I did everything else as directed except I only drained the beans (Goya brand again), but didn't rinse as I enjoy the flavor. I added ham that I had leftover with the beans. Great flavor, perfect 1 dish meal,
Spray saucepan with cooking spray. Heat over medium until hot.
Saute onions and garlic until tender; about 5 minutes.
Add rice; cook over medium heat until rice is lightly browned, 2-3 minutes, stirring frequently.
Add broth to saucepan and heat to boiling; reduce heat and simmer, covered, until rice is tender, 20-25 minutes, adding beans during the last 5 minutes.
Stir in cilantro, season to taste with salt and pepper.