Barb G.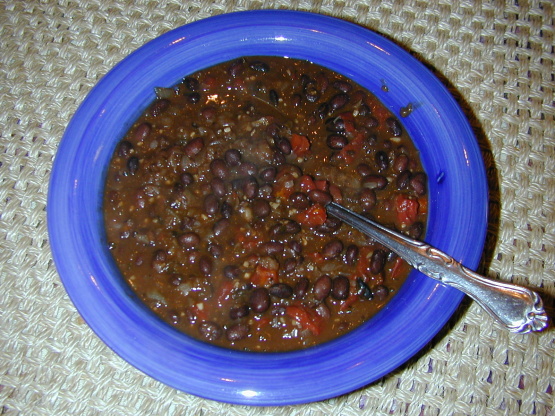 A recipe from my college days, adapted from a friend. It's very quick and made with inexpensive ingredients that most people will have on hand. This will make a filling, nutritious, low-fat dinner for 2 people if served with a green salad. If you have leftovers, an easy way to save them is to mix the beans and rice together before refrigerating. This mixture is awesome spread and

Top Review by RobinW
What great flavor from such a simple recipe! I've made this several times and this is now a staple in our house. I've served it as a side dish and as a vegetarian main dish. I had no problems with the recipe being too "soupy". I had problems only once, when I drained the black beans and the dish turned out too dry.
Start the water boiling in a fairly large pot; add the fat (if desired).
When it boils, add the rice.
Stir for the first minute, then cover and turn the heat as low as possible.
Rice should only cook for 20 minutes; you'll get perfect white rice every time by following a 2:1 rice-water ratio and following these directions.
Heat a saucepan slightly, then add oil and heat that briefly as well (this prevents sticking).
Saute the onion until aromatic, then add garlic; don't brown.
Turn the heat down to medium low.
Dump the whole can of beans in.
Add the vinegar, spices and chopped tomato, stir, and let simmer, covered.
When rice is done (20 minutes), remove from heat.
Serve beans over rice.