Rita1652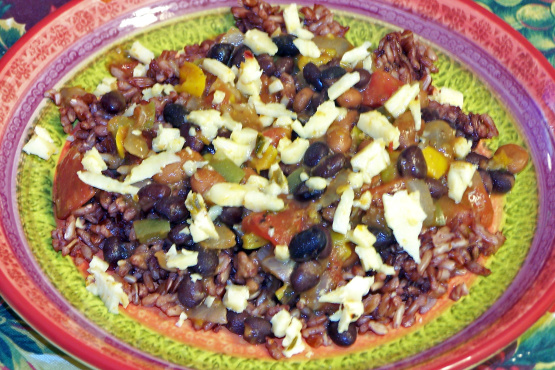 My favorite version. The rum and orange juice tweak the flavor just right. I prefer it with brown rather than white rice.

I love meatless meals and frequently enjoy having beans and rice for lunch. Despite the longish list of ingredients, most of which are topping ideas, this was very easy to assemble and the results were delicious. In contrast to my usual spicy selections these were mild with a soft fruity accent. Enjoyed mine with lime slices, soy sour cream and a side of plantanos.
Spray and heat large heavy saucepan over medium low heat.
Add onion and sauté, stirring occasionally, about 3 minutes.
Add pepper and garlic and sauté 3 more minutes.
Add beans through oregano and simmer 8 minutes, adding water if it gets too dry and starts to stick.
Mix 1 cup of bean mixture with rum and mash to a paste with a fork or in the blender or food processor.
Add paste back into the pot, cover and simmer over low heat 20 minutes.
Serve over rice.
Offer onion through sour cream, each served in its own small dish, as condiments.