CarolAT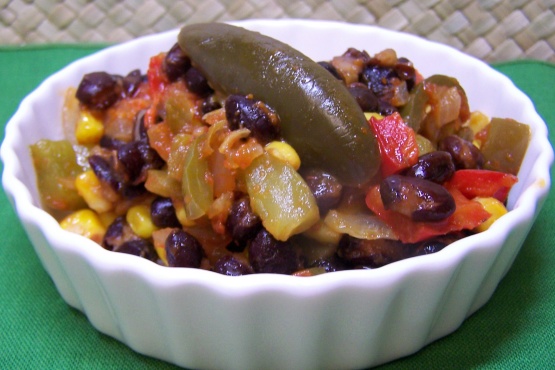 Just me playing around with a couple different recipe's that I ran across. I made this tonight for my lunch tomorrow...smelled SO good and from what I could tell tasted pretty good to. Tomorrow will tell. I'm going to be eating some of mine on a tortilla maybe with a little lettuce and cheese sprinkled on top. This is a heated version of a normally cold salad. Again this is only me playing around...I never cook so anyone else might think it's totally gross! :)

This looked like a good side dish to serve with a Southwestern dinner I was preparing. I loved the idea of adding all the ingredients together for a hot dish. However, I found that the 1/4 cup of jalapenos was a little overpowering. Next time, I will not add as meny jalapeno peppers. Also, I am not sure why the dish needed to bake for 30 minutes since everything was already hot and sauted together. Thanks for sharing your recipe. I really enjoyed all the flavors of this dish.
Preheat oven to 350°F.
Place oil in pan and saute onions for 4 minutes or until tender.
Add all of your peppers and saute for 3 minutes or until tender.
Add the rest of the ingredients and stir until well mixed and heat through.
Serve with tortillas, rice or as a side dish for chicken. Enjoy!