Black Bean, Zucchini, & Olive Tacos
digifoo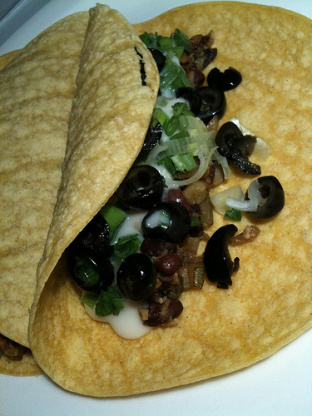 Super quick & easy but healthy & flavorful!! We usually just use the crunchy taco shells you can buy in the store. This recipe comes from Isa Chandra Moskowitz's book Appetite for Reduction - 125+ fast & filling low-fat vegan recipes. She recommends serving it with the Garlic-Lemon yogurt but its not a must.
Preheat a heavy bottomed skille tover medium-high heat. Pour in the oil and add the zucchini and jalapeno, sprinkle with the salt. Saute for about 7 minutes, or until the zucchini is lightly browned.
Add the garlic, olives, cumin, and coriander, and saute for 2 minutes more.
Add the salsa verde and black beans and cook for 5 minutes. The salsa should reduce a bit so its not soupy.
Mix the ingredients for the Garlic-Lemon Yogurt if your using.
Warm the tortillas in a skillet or wrap in a moist towel & nuke for a minute. Assembly the tacos by adding the filling, yogurt, and topping with scallions. Enjoy!