Nimz1466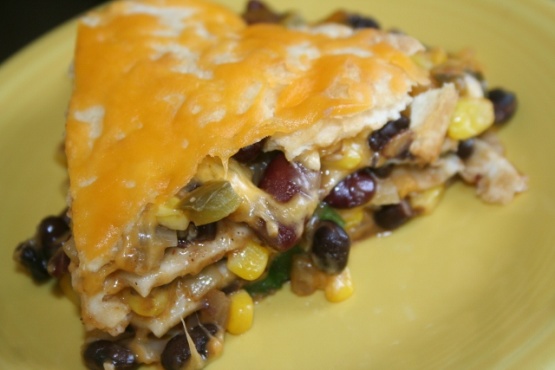 From TOH, putting here for safekeeping. Have not tried it yet but think it sounds delicious and healthy.

Excellent combination of flavors in this dish. I didn't have 2 cans of black beans so I used 1 can of red kidney beans and we loved it. I also probably used more cheese than stated as I didn't measure. I lightly browned my tortiallas prior to adding the bean mixture to it. They were still a little on the soggy side. Next time I will drain off the liquid and see if that help. Thanks for sharing. Made for PAC Spring 2011
In a large skillet, saute the onion, green pepper, cumin and pepper in oil until vegetables are tender. Add garlic; cook 1 minute longer. Add beans and broth. Bring to a boil; cook until liquid is reduced to about 1/3 cup. Stir in corn and green onions; remove from the heat.
Place one tortilla in a 9-in. springform pan coated with cooking spray. Layer with 1-1/2 cups bean mixture and 1/4 cup cheese. Repeat layers twice. Top with remaining tortilla. Place pan on a baking sheet.
Bake, uncovered, at 400° for 15-20 minutes or until heated through. Remove sides of pan. Sprinkle with remaining cheese. Cut into wedges.