vrvrvr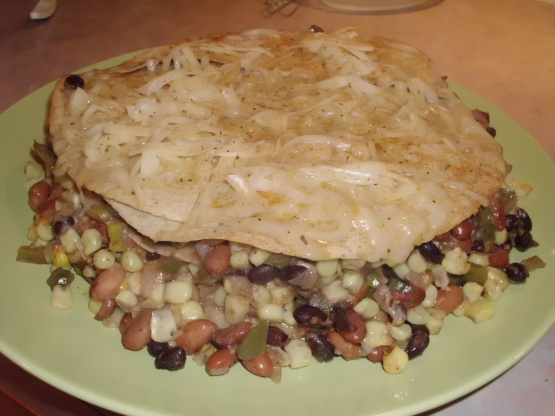 A good southwestern meatlesss entree with decreased amount of cheese and increased herbs.

Very tasty! I fiddled with some of the ingredients, but stuck to the recipe for the most part. I used 1 can of black beans and 1 of red kidney beans, and no green onion. Also used jalapeno pepper jack shredded cheese instead of cheddar. And chili powder instead of just cumin.
Yes, it does come out a little messy, but the flavor is excellent and it is very filling. I think the key is reducing the veg mixture quite a bit before filling the pie.
In a large skillet, saute the onion, green pepper, garlic, cumin and pepper in oil.
Add beans and the broth; bring to a boil; cook until liquid is reduced to 1/3 cup.
Stir in corn and green onions; remove from heat.
Place 1 tortilla in a 9-inch spring-form pan coated with nonstick cooking spray.
Layer with 1 1/2 cups bean mixture and 1/4 cup cheese; REPEAT layers twice; top with remaining tortilla.
Place pan on a baking sheet; bake, uncovered, at 400 degrees 15 to 20 minutes or until heated through.
Remove sides of pan; sprinkle with remaining cheese; cut into wedges, enjoy.