Black Bean Tart With Chili Crust
Prep 45 mins
Cook 1 hr 10 mins

A friend of mine surprised us with this for dinner one night. She just delivered it to our door. I knew I had to have the recipe. It's such a different entree. Vegetarian and yet SO hardy! The instructions are long, but the process isn't. Don't let the length of the recipe scare you out of a delightful and interesting meal! Be sure to use your food processor to save some time!
Directions
For crust:.
In a bowl, with a pastry blender, or in a food processor, blend or pulse together flour, spices and salt until combined well.
Add butter and blend until mixture resembles coarse crumbs.
Add ice water and blend until incorporated and mixture forms a dough.
Press dough evenly onto the bottom of a 10-inch tart pan with a removeable fluted rim (I use my springform pan) and chill 15 minutes until firm.
With a fork, prick entire crust many times.
Bake crust in middle of oven 20 minutes or until golden.
Cool crust in pan on wire rack.
Crust may be made 1 day ahead and kept at room temp, covered loosely with plastic wrap.
For filling:.
In a food processor, puree 1 can beans with sour cream until smooth.
Season with salt and pepper.
In a skillet, heat oil over moderately high heat until hot (but not smoking), and saute onion until clear.
Add corn, salt and pepper to taste, and heat throughout.
Stir in remaining 3 cans beans, bell pepper, cilantro, jalapenos and cheese.
Remove from heat.
Spread bean puree evenly onto crust and mound with remaining filling, pressing gently.
Bake tart in middle of oven about 20 minutes, or until hot and cheese is melted.
Let tart cool in pan on a rack 15 minutes.
**Edited to reflect review** - Place springform pan on serving platter or cookie sheet (large enough to accomodate some spreading of tart and filling.).
Carefully remove rim of springform pan, slice tart and garnish individual servings with lime sour cream and, if desired, cilantro sprigs.
Reviews
Most Helpful
Very good! My meat loving husband really enjoy this as well. Next time I would make the crust the day ahead as recommended because it was a lot of work to do all at once, but I will be making this again. Thanks!

I have made a similar recipe many times--but I found it in TOH. Don't be put off by the long list of ingredients..it is worth it!!! I have made it vegetarian as written, I have also reduced the beans to 2 cans and added leftover chicken. For the crust, I prefer reducing the flour to 3/4 cup and adding 1/2 cornmeal. We also prefer 1 cup chopped red bell pepper (instead of green) and 1/2 cup chopped green onions (instead of white). I usually put it in a 9-10" piepan and cut into wedges and serve from there--no tart pan needed. Glad I found this online- my cookbook is falling apart and I can never find this page! Thanks for posting!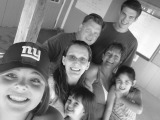 I lost this recipe for years -- it appeared in Gourmet about 15 years ago, and I made it waaay back when we were vegetarians and we loved it! The crust really makes it. I was so glad to find it again. It's a little more work than some entrees, and I agree that unmolding it is tricky, so I just don't bother. Instead, I leave the tart on the bottom of the springform pan and slice and serve it from there. This go round, I compressed it firmly, wrapped it tightly, and took it on a vegetarian picnic. People went nuts for it! Thanks for helping me unearth this long-lost treasure.