Black Bean Stuffed Bell Peppers
Anonymous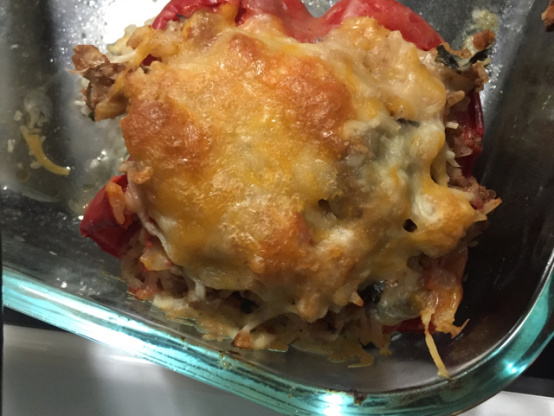 Makes a great low fat main dish. My kids actually loved this!

Delicious! I took the advise of other reviewers and saut?ed the onions before cooking. Also, to prevent burning of the cheese, I added it at the last 5 minutes. It was perfect! And mixed a little cheese in with the rice mixture. So good!
Preheat oven to 350°F.
In large bowl, mix all ingredients except bell peppers and cheddar cheese.
Add salt and pepper to taste.
Cut top of bell peppers, clean the inside and rinse well.
Stuff with mixture and sprinkle cheddar cheese on top of each bell pepper.
Add 1/2 cup water to shallow baking dish.
Add bell peppers and cook for 30 minutes or until peppers are tender.