Black Bean Soup With Sweet Potatoes
Parsley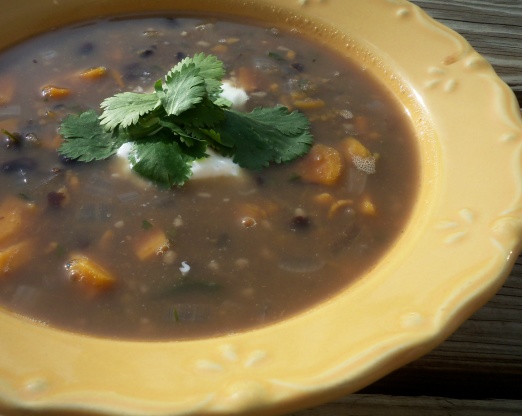 A simple and exotic soup served with a dollop of sour cream and lime wedges.

I made this last night and it was so quick and easy and delicious!! I used 2 cans of Trader Joe's black beans, so it only took about 20 minutes to cook. I let it sit on the stove on warm for about 45 minutes total, and it was fantastic. Will definitely make again!!
Heat oil in large dutch oven or stock pot. Sauté onion and garlic in oil until soft.
Add balance of ingredients except the sweet potatoes. Simmer until beans are soft, about 1 hour.
Add potatoes and continue to simmer until potatoes are tender (do not overcook sweet potatoes, they'll turn to mush) :-)
Serve hot with a dollop of sour cream and a lime wedge squeezed over the top.