Bergy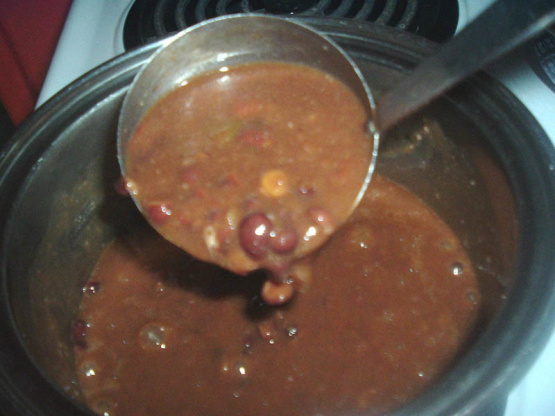 Wonderfully warm & filling soup. Not sure where it came from, but it's a comforting favourite. You can adjust the spices to your taste. If you used vegetable stock, it would be a vegetarian dish & without the cream, it would be vegan. I have also done this in the crockpot.

I made this last week, it turned out well. I added a few things, a can of chicken and a can of corn as we were having it as our main meal. I also used homemade chicken stock made from a store bought rotiserrie chicken carcass and some veggies.
2

cups dried black beans, washed

8

cups water
1⁄4 cup olive oil

2

large onions, finely chopped

8

cloves garlic, minced (or to taste)

1

teaspoon minced chili or 1 teaspoon hot sauce (to taste)

2

teaspoons salt

6

cups chicken stock (could substitute veggie if you wanted a vegetarian soup)

8

dashes sherry wine (one per person) (optional)
Bring water& beans to a boil over high heat.
Reduce heat to a simmer& cook till beans are soft, about 1 hour.
In another saucepan, heat oil,& cook onions until light brown, about 15 minutes.
Add garlic, chili& salt, cook 4 minutes or so to release fragrance.
Add black beans, liquid& stock; bring to boil& simmer for about 30 minutes.
Use blender to puree the soup (I only puree some of the soup, so it remains chunky).
Ladle into bowls, stir in a small splash of sherry (if desired, it balances well with the bean flavour)& garnish with a dollop of sour cream& some chopped herbs.