Parsley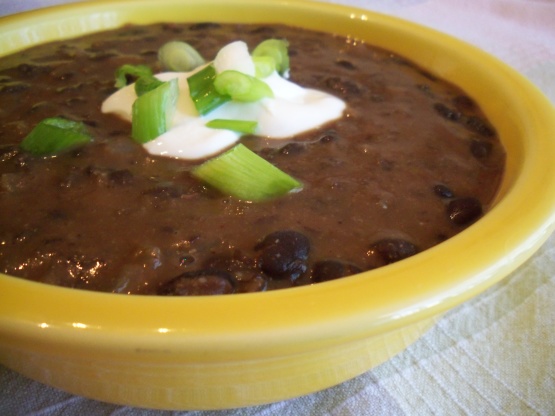 I modified this recipe from one entitled Cajun black bean soup. I added chicken broth and omitted the crushed red pepper. My husband likes to sprinkle crushed red pepper on his serving, though. For a vegetarian recipe, omit the chicken broth--add water if too thick for you.

This is a fantastic soup! It was so easy to prepare and so full of flavor. There was only three of us and the entire pot was gone. My friend just raved about it and he literally scraped the bottom of the pot to get the last spoonful! I will definitely be making this recipe often, thanks Zee!
Heat oil in large pot over medium heat. Add onion and cook 5 minutes. Stir in garlic, cumin, chili powder and oregano.
Puree one can of beans and add to pot. Add second can of beans (do not puree) and the chicken broth.
Reduce heat and simmer for 15 minutes, stirring often. Add black pepper, to taste.
If desired, serve with crushed red pepper or a dollop of sour cream.