Parsley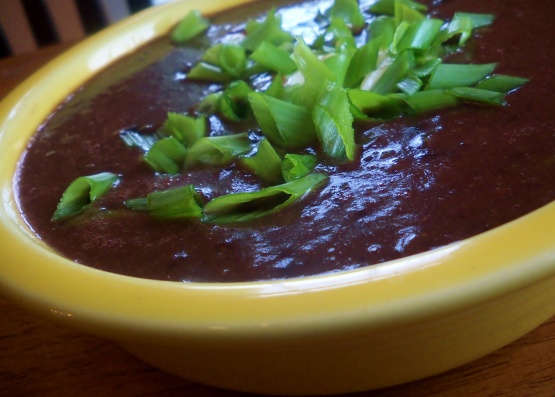 A quick, easy & good soup for lunch using ingredients I almost always have on hand. I use bouillon made with low-sodium beef bouillon powder.

I love this soup. It's so quick to make and has great flavor. I make my salsa using Mrs. Wages Classic Salsa Instant Mix and it gave the soup a little kick of heat. I topped mine with the sour cream and also with a little shredded cheddar.
Combine beans through cumin in a blender or food processor fitted with metal blade.
Process until smooth (about 1 minute).
Heat in a medium saucepan over medium heat until heated through.
Ladle into 2 soup bowls.
Spoon a 1 Tbs dollop of sour cream on top of each and swirl gently.
Sprinkle with sliced scallions.