teresas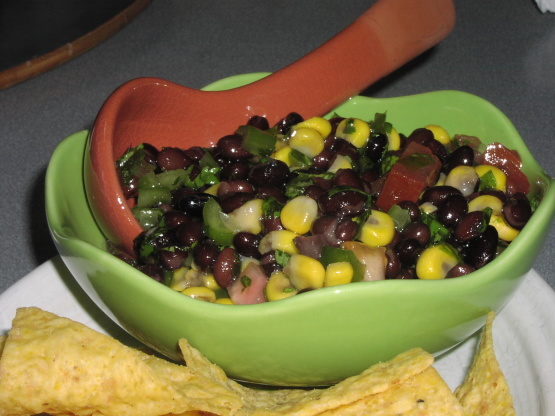 This salsa is not your typical salsa. It is wonderful when made ahead and allow flavors to blend. Serve with a sturdy chip! We love Tostito Gold chips, they are hearty to handle this salsa. Enjoy!

This was a nice black bean salsa...but it really did need salt...of course once I added it, it wasn't low sodium anymore...but it sure improved the taste...I have some left and I'm going to throw some chopped onion in it...next time I plan to use jalapeno instead of the chilies because my family enjoys the heat...made for My 3 Chef's tag game...:)
Mix all the ingredients together except for the limejuice.
Add the limejuice immediately before serving.
To reduce fat and calories, serve with baked tortilla chips, toasted pita triangles, or fresh vegetables.