Black Bean & Quinoa Salad With Cilantro Lime Vinaigrette
dr_kaley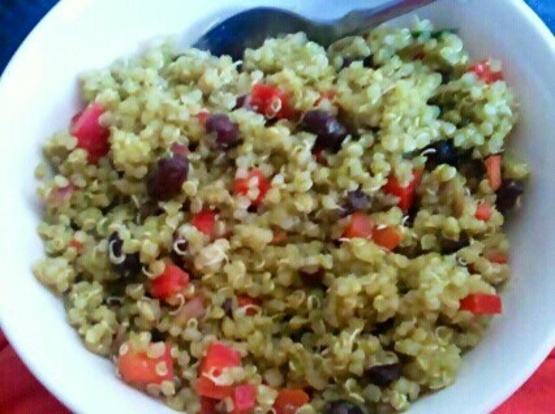 I got this Recipe from "Fed up" on the Veria channel, by Andrea Beaman. It's very easy and actually really tasty! I love it. So healthy too, tons of fiber, and truly a healthy dish. Very filling, I eat it for lunch sometimes by itself. WW friendly.. I use organic ingredients The only difference is, I don;t use meat in it when I make it, she used cooked chopped chicken. I prefer it without, as I usaually pair it with a WW spiced tilapia recipe I found here on Zaar, and goat cheese and scallion stuffed cherry tomatoes, asparagus, or some other veggie.. Yum
I love this recipe. Better than the Costco premade quinoa salad. I typically add cucumber and cherry tomatoes (cut in half) as well as the other veggies. You could add whatever veggies you want and it would still be great. This salad holds in the fridge for several days. You could even use the vinaigrette on regular salads too. Thanks for posting!
Cook Quinoa as directed on package (I use Bob's red mill. 1 3/4 cup water and 1 cup dry Quinoa).
While Quinoa is cooking, place Cilantro, lime juice, red wine vinegar, agave, olive oil, salt and pepper in a blender or food processor and pulse.
Toss finished Quinoa in a large bowl with black beans, red pepper, and onion.
Pour cilantro lime vinaigrette over Quinoa salad and let marinate for atleast 30-45 minutes.
(Note: I added everything up myself using calorie king- and it can out to be 260cal, 11g fat, 5g fiber per serving).