Parsley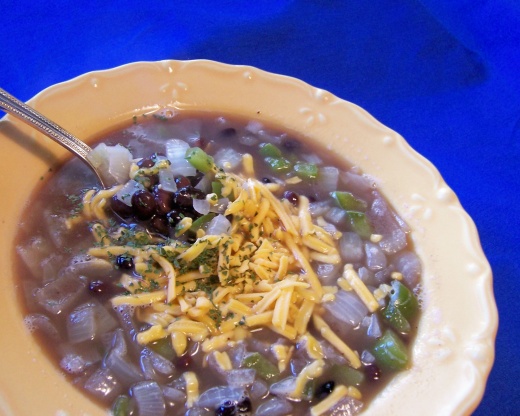 A great, easy soup for chilly days. From the Healthy College Cookbook. But, not just college students will love it!

This was just OK....nothing special. Personally I found it WAY too watery and bland. I made with chicken stock, added 1 can of fire roasted tomatoes, and 1t of cumin with 1/2t chili powder in an attempt to give it some flavor. I'll finish eating the servings I made and froze, but won't be making this again. Sorry! Thanks for sharing.....
In a skillet over medium heat, saute the onion and garlic in the oil until soft (approx 5-7 min/).
Combine the onion and garlic in large pot with beans and water. Bring to a boil.
Add the green pepper, reduce heat and simmer for 10 minutes.
Allow to cool slightly and then puree half of the soup in a blender.
Return mixture from blender to pot and heat to serving temperature.
Top with cheese and serve with whole wheat bread or crackers.