3 Reviews
Good! I live and breathe hummus. No exaggerations.

Very good bean dip. I made for a food day at work and everyone liked it.

This was a great alternative to regular hummus, and it tastes really great, too! I made this exactly as posted, using about 1 cup of water. Be prepared, though, because this makes a lot! I enjoyed this curled up in front of the T.V. with a bag of white corn tortilla chips, as well as some crudite. Yum! Thanks for sharing. Made for Fall PAC 2011.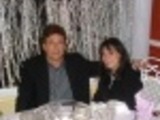 Black Bean Hummus