Black Bean & Ground Turkey Burrito Mix
Bergy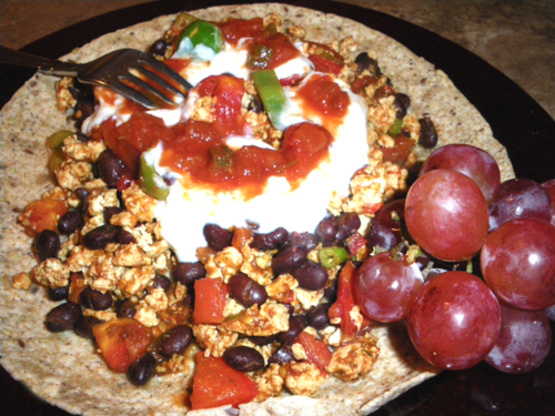 Nice easy meal for one. Pair with 1 cup of any color grapes.

Top Review by Bergy
This is 5 star plus - A definite do again recipe. I increaed the turkey to 4 oz, used one tortilla - left open and added 2 tbsp of Chipotle Hot sauce - Love the balck beans and love the nutritional count - I didn't use any lite cheese I found that the sour cream was enough
Cook ground turkey, drain.
Drain and rinse black beans. Wash and chop tomato and bell pepper.
In a small bowl, combine tureky, black beans, tomato, bell pepper, olive oil, and chopped cilantro. Mix lightly.
Spoon half of black bean mixture onto each tortilla.
Top each tortilla with half of the cheese, salsa, and sour cream.
Roll up tortillas and enjoy with a glass of cold water or other calorie-free, decaffeinated beverage.
Serve with fresh, washed grapes.