Black Bean Cream Cheese Dip
Parsley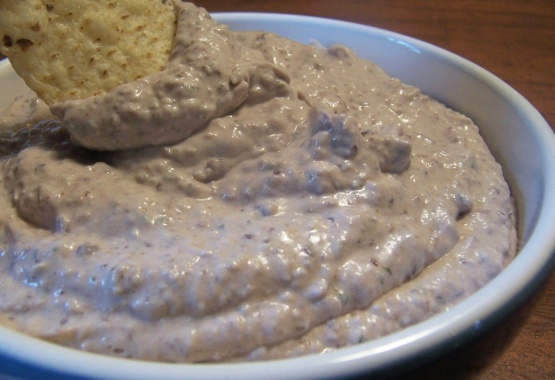 This is a soft, creamy dip that goes well with veggies, tortilla chips, or bagel chips. Do not use whipped cream cheese. Prep time is chill time. **Update: After reading Parsley's review, I changed the ingredients to read 1/4 cup red onion, since onions can vary in strength so much. Better to start with a smaller quantity and add more if you'd like.

I used a "small red onion" as called for. Everyone knows that I LOVE my onions, but all I could taste in this dip was red onion. The texture was lovely, but the onion was so overpowerering that it actually stung in my sinuses. Perhaps roasting the red onion first would mellow the flavor? Or maybe a little Vidalia or sweet onion instead? I did add a little cumin and cilantro, but I couldn't taste it. :( Thanx for posting this; it's worth adjusting and trying again.
Blend together all of the ingredients until smooth in a blender or food processor.
Spoon into a bowl, cover, and chill for at least three hours, or overnight.
Serve chilled, at room temperature, or even slightly heated.